With the goal of providing customers with the highest quality on-combine harvest data right in the field, HarvestMaster™ is excited to announce the launch of the new H3 GrainGage™, which includes world-class near-infrared (NIR) technology. Building off the original design of the H2 GrainGage, unmatched in weight and test weight measurements, the newest generation of GrainGage comes equipped with a fully integrated NIR sensor capable of measuring multiple constituents upon arrival. Partnering with SCiO™, an industry leader in NIR analysis and producer of NIR solutions such as the SCiO Cup and SCiO Mini, HarvestMaster is the first to provide a fully integrated on-combine NIR harvest data collection system. The NIR predictions from the H3 are comparable with the industry's gold standard benchtop NIRs, verified against wet chemistry, and for a fraction of the cost. By integrating the SCiO NIR sensor inside the GrainGage, high-quality NIR predictions are automatically provided in real-time during harvest.
Ready-to-use Calibrations
Provided with proven calibrations, the H3 is the first ever fully integrated on-combine NIR solution that is ready to operate immediately following combine installation. No need to spend years of valuable time and resources building your own calibrations only to achieve marginal results. HarvestMaster's H3 utilizes SCiO's industry-proven calibrations allowing users to focus on what matters most right from the start, high-quality data. The huge expense of performing your own annual NIR calibration updates and maintenance is often overlooked, which is why we're so excited to provide that service as well. Also, the need to plant calibration plots is reduced because calibrating the H3 GrainGage to an external reference at the beginning of harvest season is optional.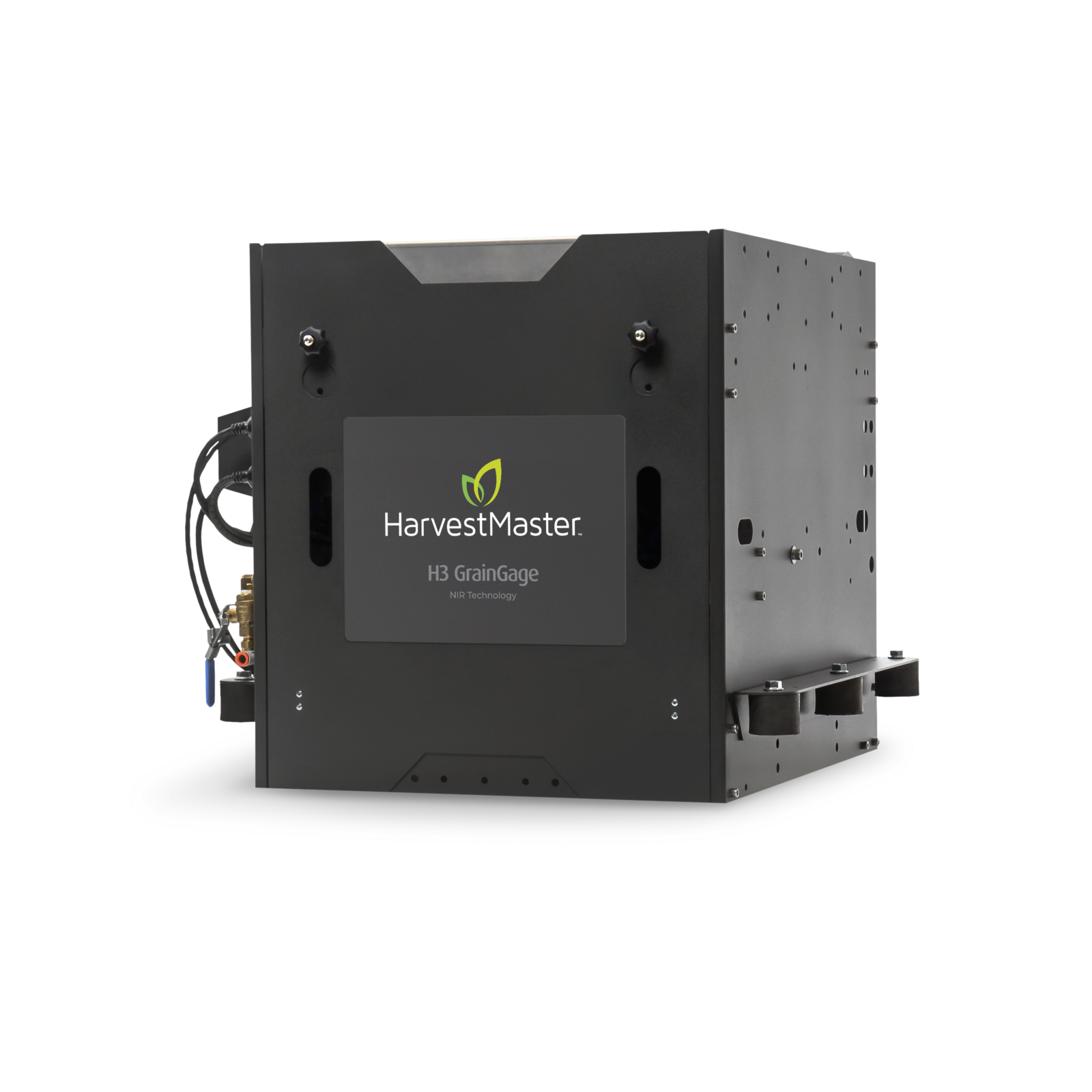 Quantity and Quality
At HarvestMaster, we recognize the importance of quality data. With the implementation of the SCiO NIR, the H3 measures more than just weight, test weight, and moisture. In addition to more accurate moisture, the H3 can also measure protein and oil depending on the crop. We're also working on expanding the calibration portfolio for even more crops and constituents and offer the option of building custom calibrations specific to your needs. The H3 can accommodate the traditional EM3 Sensor found in the H2 GrainGage if the moisture measurement you need is not yet available for NIR prediction. It has never been easier to make data-based decisions.
GrainGage Comparison guide
| | | |
| --- | --- | --- |
| | H2 | H3 |
| PLOT WEIGHT | X | X |
| TEST WEIGHT | X | X |
| EM MOISTURE | X | X |
| *M2.0 MOISTURE | X | X |
| *SCIO NIR MOISTURE | | X |
| *SCIO NIR PROTEIN | | X |
| *SCIO NIR OIL | | X |
| **CUSTOM SCIO NIR CALIBRATION | | X |
*See H2 & H3 spec sheets for available grains. **Contact HarestMaster for Details here.
Time-saving processes
HarvestMaster wants to eliminate the process of transporting samples to a central location for benchtop NIR testing. A process that costs a considerable loss of time and money, not to mention the increased chance of mislabeled and mixed-up samples. Even for users with a benchtop NIR on-location, the time and resources it takes to get NIR data is unnecessary when there is an immediate, on-combine solution. HarvestMaster wants to help researchers focus on what is important, their data, not the logistics of getting their data.
Seamless H2 upgrade options
HarvestMaster knows there are a lot of H2 GrainGages out there, and we aren't leaving anyone behind. For those who already have an H2 and want access to on-combine NIR analysis, HarvestMaster is offering an H2 NIR Upgrade Kit allowing customers to upgrade their existing H2 on location with H3's NIR technology. If NIR is unnecessary for your operation, the H2 GrainGage product line will remain a staple from HarvestMaster and continues to be a great option.
The upgrade kit, just like the H3, includes the first year of calibrations. Users can decide whether to install the upgrade themselves or have the team at HarvestMaster help them.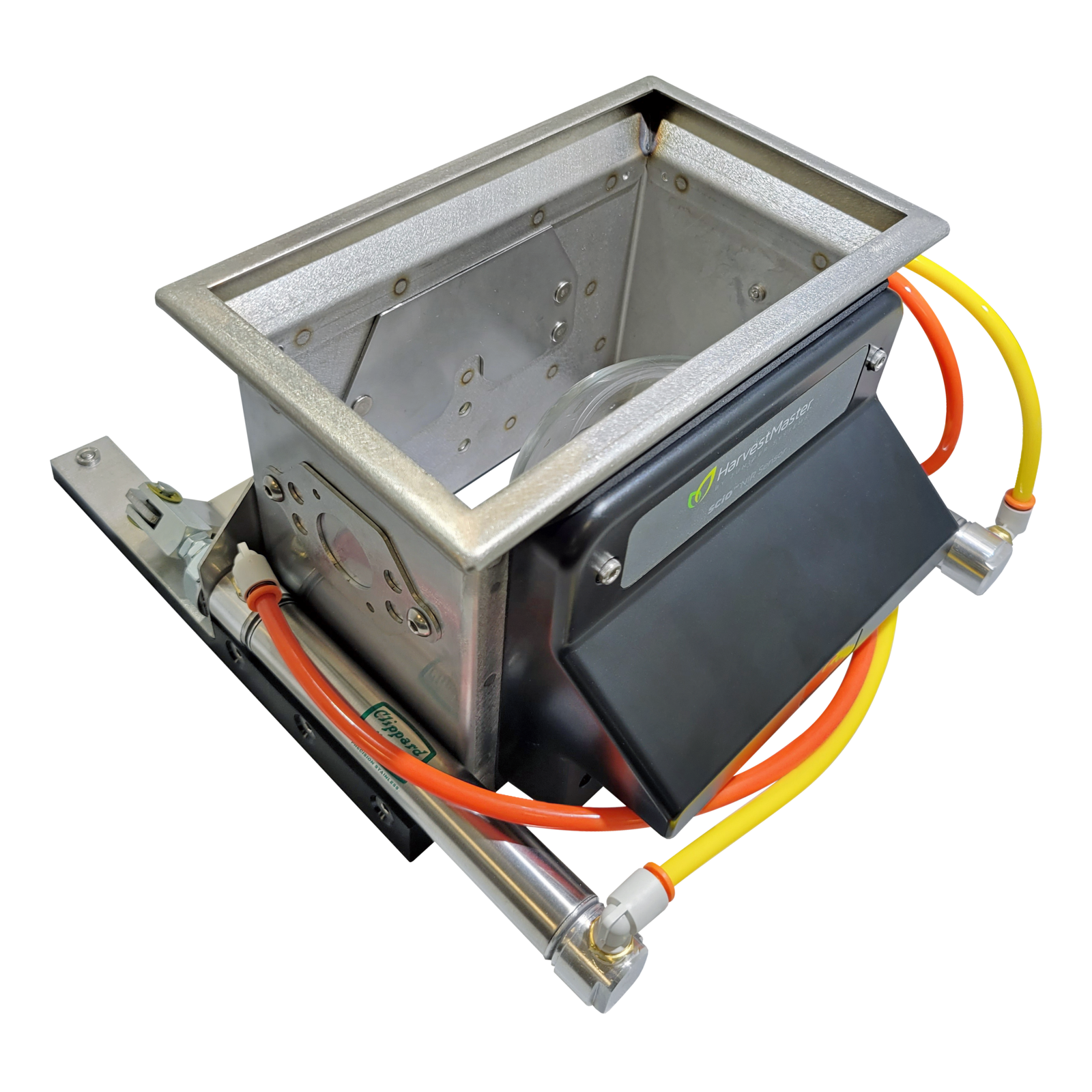 An accessible and affordable option
HarvestMaster wants to save you time as well as money. In addition to better data, more constituents, ready-to-use calibrations, annual calibration updates and maintenance, and a reduced need to calibrate to an external device, we've also managed to make the cost of the H3 an incredible value. The annual calibration subscription is set at an affordable price, and we've upgraded Mirus™, our accessible data collection software, to seamlessly work with the new H3, keeping all your data conveniently at your fingertips.
Direct support
As always, HarvestMaster is available to provide world-class support whenever you need us. If you're installing the equipment yourself, we're just a phone call away, and remember, we're always happy to come on-site and do the installation for you. We know excellent products are nothing without outstanding customer service. HarvestMaster is here for you year-round, not just during harvest season.
The HarvestMaster GrainGage has come a long way since 1996. From a device with humble beginnings, we're now the most trusted name in the market. With accurate measurements of plot weight, test weight, moisture, protein, oil, and more coming. The H3 is the most accurate on-combine data collection device on the market. Adding NIR to the GrainGage family provides a must-have solution in research agriculture and was the obvious next step in our journey. Talk to a sales representative today to find out if it's the next step in yours too.